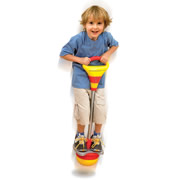 The Fun Sounds Pogo Stick.
This is the pogo stick that generates a series of cartoonish clangs, whistles, boings, honks, and more when bounced. Suitable for outdoor use, its 7"-diam. durable rubber inflatable rebounding ball has a built-in motion sensor that detects vigorous bouncing. Its handlebar has a speaker that generates "aoogahs" or vibraslaps each time a child bounces. Four additional settings teach rhythm, speed, counting, and challenge children to stop bouncing when the music stops. The speaker turns off automatically after one minute of inactivity. The footpad provides children secure footing while bouncing. Requires three AA batteries. Ages 5 and up. Supports up to 110 lbs. 36" H x 8 3/4" W x 9 1/2" D. (3 1/2 lbs.). Click here to buy The Fun Sounds Pogo Stick.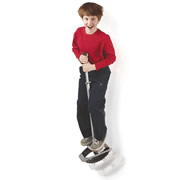 The Easy Balance Jumping Stick.
Winner of a National Parenting Center Seal of Approval, this is the pogo stick that provides a stable platform so children can spend more time jumping and less time falling off and re-mounting. Modeled on the arched leaf springs used in truck suspensions, the jumping stick's patented "T-springs" put more surface area in contact with the ground, making it easier to balance on than traditional pogo sticks. The opposing semi-elliptical springs also provide superior bounce while allowing greater directional control. A wide, high-traction base prevents feet from slipping even during exuberant jumping. The bottom surface is a non-marring rubber-like material that won't mark floors or driveways. The aluminum shaft adjusts to three heights to accommodate riders of different statures. For ages 5 and up, 66-132 lbs. 45-58" L x 13" W x 10 3/4" D. (5 1/2 lbs.) Click here to buy
The Easy Balance Jumping Stick.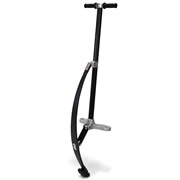 The 4' Bounce Pogo Stick.
This is the patented pogo stick that bounces riders up to four feet in the air. Unlike typical pogo sticks that use coiled steel springs, this model propels riders with a bow-shaped spring made of composite fiber. This mechanism much more efficiently returns the downward force, enabling bouncers to achieve extreme heights. The shaft of the pogo stick is constructed of lightweight yet rugged high-grade aluminum. Padded handlebars and aluminum footrests provide comfort and stability during use. For riders 120 lbs. to 154 lbs. Helmet and pads should be worn at all times (not included). Ages 13 and up. 38" H x 15" W x 6" D. (9 lbs.)
Click here to buy
The 4' Bounce Pogo Stick.